K0USA
It's happened or will happen to every amateur radio operator who's been involved in public service or emergency communications for a while: you get to the drill or event site and your radio isn't programmed correctly. You find out the repeater you'll be using has a CTCSS tone to access it now, or you have the wrong offset, or you don't even have that frequency in your radio. NOW WHAT???
With new feature rich radios many of us do not know how to program a radio without a laptop and programming cable, but in the field you may not always have access to those things. To help use be better able to communicate in those situations, SATERN will be hosting a "Hand Held Front Panel Programming" class. – You do not have to be registered with ARES or SATERN to attend.
The class will be held Saturday, February 9th at 1:00 pm at the Salvation Army EDS building at 10629 Burt Circle in Omaha. So that we are better prepared to assist you, you will need to bring your HT with a fully charged battery and the radio's manual. We also ask that you register at this link and let us know that you will be coming :
DO NOT BRING THE PROGRAMMING CABLE OR SOFTWARE! We will not be assisting with computer programming of the radio.
We will go over
setting frequencies
setting repeater offset and direction
setting squelch tones
writing to a memory
selecting a memory
locking and unlocking the radio
adjusting volume and squelch
Because of special requirements for P25, DMR, D-Star, Fusion and other digital modes, we will only be covering standard analog FM programming for your radios for this session.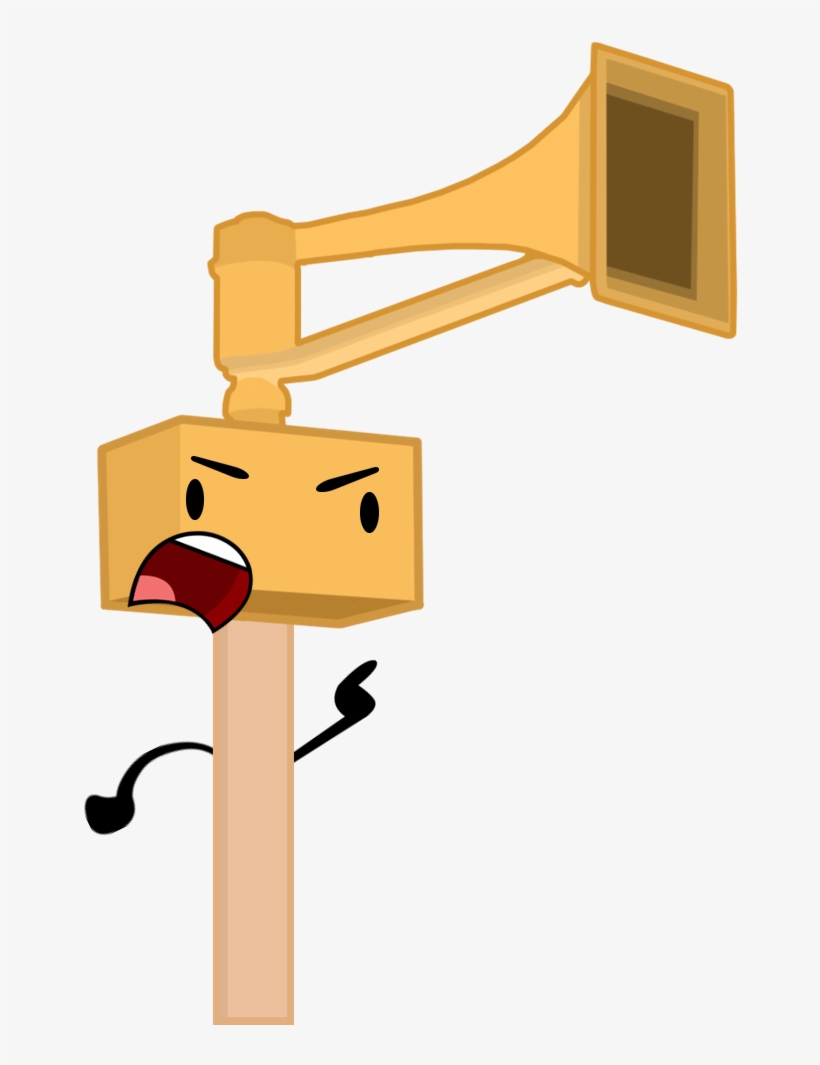 The Annual Douglas County Visual Siren Test will be held on Saturday March 9th. This exercise is to provide a radio operator at each siren location to observe it during activation. This will confirm that it is rotating as expected, that the siren is sounding properly and that it is in good repair. With more than 100 sirens in Douglas County all available hams are needed.
This year there will be only be two soundings. The first one at 11:00 am, and the second at 11:30 am. With enough volunteers we can get this done in one sounding
If everything goes off as scheduled the net should be secured by 12:00 noon. This is a great event for your first volunteer experience or just getting back into the community service arena! Sign up now to help with the 2019 Douglas County Siren Test at the link below.
Winter Field Day, sponsored by the Winter Field Day Association (WFDA) , and takes place the last full weekend in January. For 2019 that was Janurary 26th and 27th.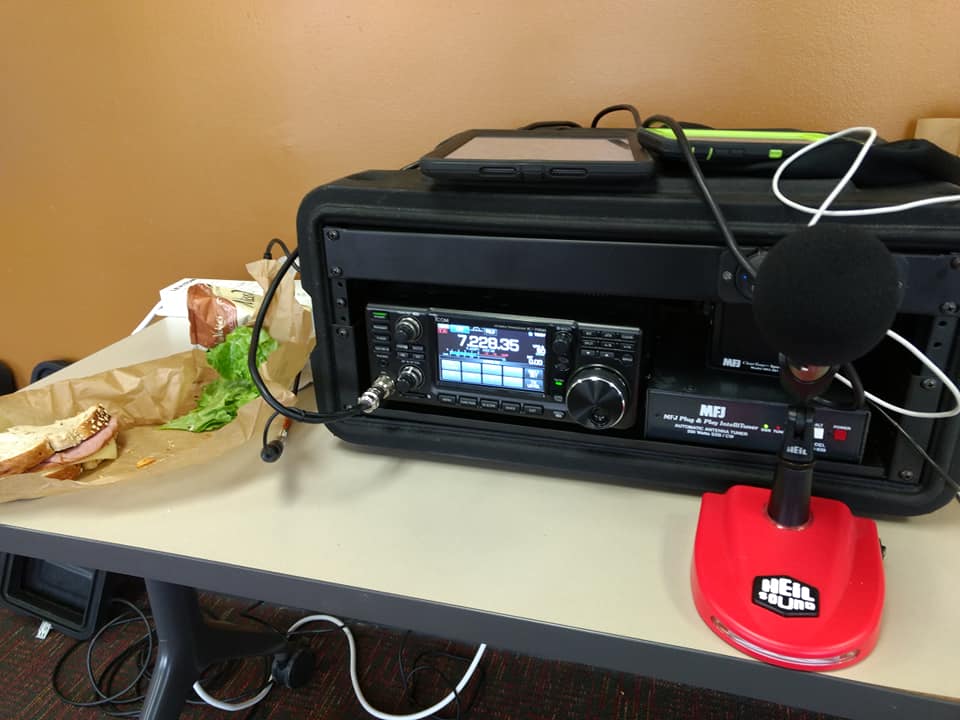 "Don't let those winter doldrums keep you locked up in the house the WFDA says.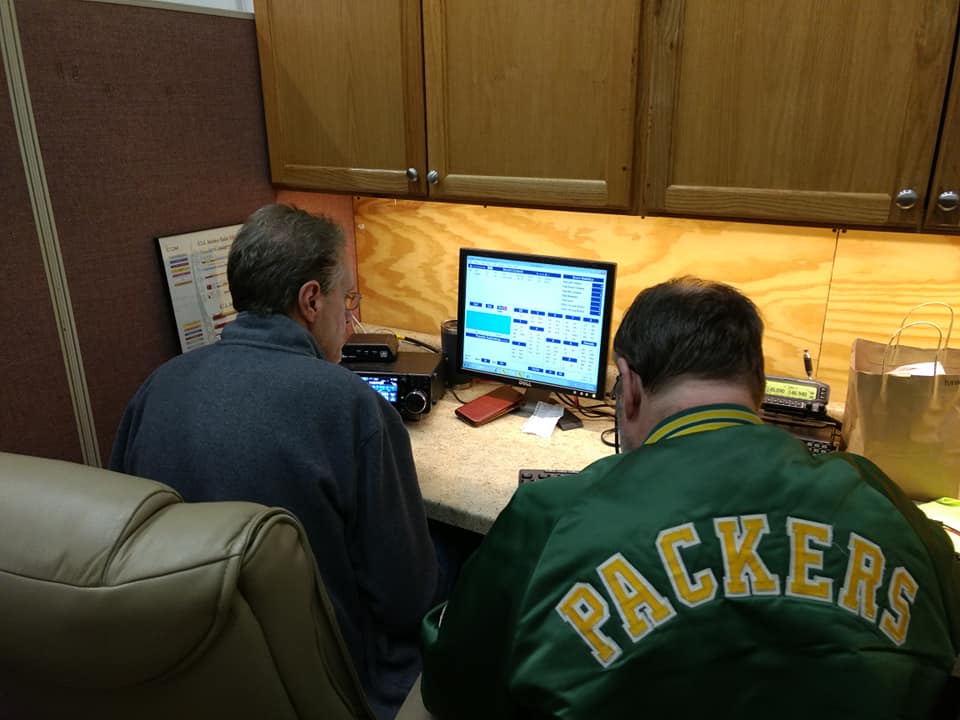 "Get out and play some radio!" The WFDA said it believes that maintaining operating skills should not be limited to fair-weather scenarios. And right they are!
We operated 2I from Salvation Army EDS building at 10629 Burt Circle and had a great turn out. The Salvation Army provided some donuts and sandwhiches.
Results are still being tablutated, (meaning that N0TRK did not network the computers and used the computer running the KØTSA-2 Packet BBS as the logging computer - so she needs to go back to the TSA to get the results off that computer) but it is doubtful that the group broke any records. Stay tuned to this web site for the final score!
As a Service to its members, the AARC has available some items that members might need occasionaly.
Members of the Ak-Sar-Ben Amateur Radio Club, who are in good standing (that means current on your dues!) and possesses an active FCC issued US Amateur Radio License may borrow one of two Icom HTs. The radios are a basic 2 meter radio which is great for the new user. It has a NiMH battery and a drop in charger and an alkaline pack making it the perfect if you need to borrow a rig to help with that community service event, or if you are just itching to get on the air as you shop for your new radio. Completely programmable from the keyboard there is no need for the complication of computer based programming.
The radios are available for checkout at any club meeting and you can use it to your hearts content for then next month. Just bring it back to the next month's club meeting. If you can't make a meeting for either check out or return, you can contact the equipment committee at This email address is being protected from spambots. You need JavaScript enabled to view it. to make arrangement for its return. Someone else might be waiting!
We also have an MFJ-259B Antenna Analyzer and an MFJ-949C Versa Tuner as well... Both are available for pick up at a club meeting with advanced notice you want to borrow them.
At this time there is no other equipment on the loan list.
Please review the Loan Agreement at the link below.
| | | | |
| --- | --- | --- | --- |
| Item | Serial Number | Borrower | Date Due Back |
| Icom V80 Kit #1 | 25006471 | Available | |
| Icom V80 Kit #2 | 25006472 | Available | |
| ARRL Intro To Morse Code CD Set | N/A | Available | |
| MFJ-259B Antenna Analyzer | N/A | Available | |
| MFJ-949C Versa Tuner II | N/A | Available | |

To review the Equipment Loan Agreement click this link.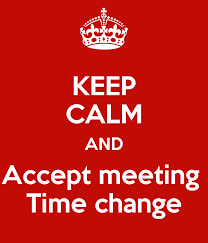 As his first act as president, Kevin Hill KAØVNY has changed the schedule for the Ak-Sar-Ben ARC Board of Directors meeting. Starting in January, the meetings will take place on the 4th Wednesday of the month. To maintain some continunity, the time remains at 6:30 pm, as does the location, the Peony Park Hy-Vee deli.
Club members are encouraged to attend, and are reminded that if they would like to get something to eat prior to the meeting, its best to arrive by at least 6:15pm.

The next meeting of the AARC BOD will be on February 27th at 6:30 pm.
The Weekly D-Star Net is held on the KD0CGR Modu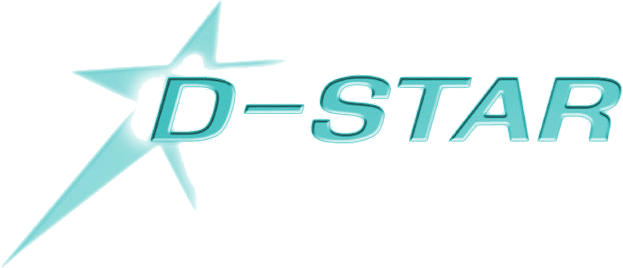 le B (442.125 Mhz) repeater on Thursday nights at 9:00 PM Local time