K0USA
Your New Leadership for 2018
President:
Vice President:
Bill True, WA9ASD
Justin Tabor, KE0BHP
Board of Director:
Board of Director:
Barb Westcott, KC0HLB
Brian Sohl, KE0GKB


The Ak-Sar-Ben Amateur Radio Club welcomes newly licensed amateur radio operators to the great hobby amateur radio.
We know it can be a bit intimidating figuring out what to do now that you have that new call sign. Joining a club and being active in events is a great way to find those people who are willing and able to help.
To make is easy for a newly licensed ham, the Ak-Sar-Ben Amateur Radio Club offers:
A free year's membership in the club so you can put your dues money towards your radio purchases.
Loaner radios - we have two Icom 144MHz handitalkies - so you can get on the air while you decide which new radio to buy. Any member may borrow one of these radios for a month at a time
The Ak-Sar-Ben Amateur Radio Club has an active group who like to take ham radio out of the "shack" and into the field. They have plans to operate from:
Homestead National Monument of America in Beatrice,NE for the 2017 Total Eclipse in August.
USS Hazard National Historic Landmark at Freedom Park in Omaha for ham radio event called Museum Ships Weekend in June
There are tenative plans for operating from other locations so watch the website and Facebook for details
The club also is active in community service, providing communication support to numerous events such as
Nebraska State High School Track Meet
Market-to-Market Relay
The Corporate Cup
Crop Walk
You can find an application form at this link. Fill it out and bring it with you to a club meeting! We meet the 2nd Friday of the Month at the Red Cross near 84th and Spring. We are looking forward to meeting you!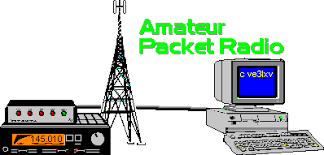 There is a group of hams who get together on a semi regular basis to work on various data modes.
Last year, they worked on AREDN - using 2.4 GHz and other frequencies to create ham radio networks. This year they are working on packet.

Their plans are to setup a packet BBS and encourage more hams to get involved in packet.
Despite its limited speed, packet is still a reliable method of communications and can be a great way to communicate during times of disaster and disaster recovery.
This is an informal group that meets to keep interest going on the project, work together over difficult issue and help each other achieve the goals of the "project".

Currently they have completed the following:


Setup a Winlink RMS station - this is the ONLY active Winlink station in Nebraska.
Sent and received emails via the Winlink system that were initiated and received over packet radio.
The Packet RMS station is under the K0MMR (OMMRS) callsign
Re-instated the packet station at the Red Cross - on the air as W0EQU with a PBBS of RedX-1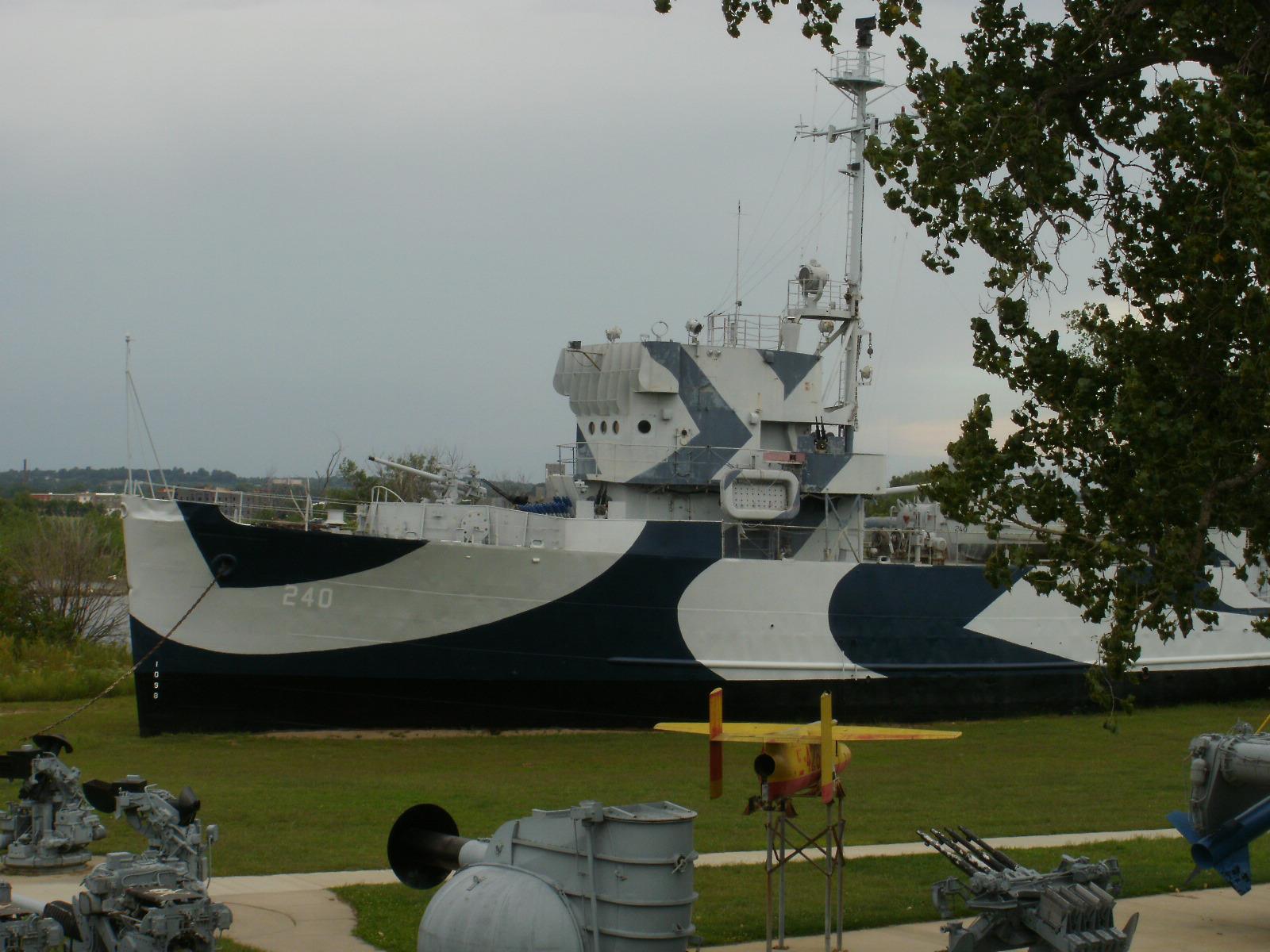 On Saturday November 11, 2017 - members of the Ak-Sar-Ben Amateur Radio Club setup operations on board the USS Hazard to celebrate the day and let all the vets (including the Hazard herself) know that they are appreciated.
The ship's oven needs a thermostat repair, so the plan for pizza was scrapped, but crock pots full of chili and bar-b-que chicken were a nice warm subsititute. There was also plenty of coffee to help keep the operators warm.
The KØUSA remote operation team (aka - KØCTU and NØTRK) decided against using the Icom IC-728 that is currently housed in the radio room, and instead opted to use the Icom IC-7000 that was a veteran of National Parks on the Air in 2016. The also decided to try the newest additon to their portable set up, an Bioenno 30aH LiFePo4 battery. They did use the ships long wire antenna for all contacts.
While the chili and chicken were warming in the galley, the radio room was getting warmer as the heaters worked hard to chase away the chill of the steel hull of the ship. Sinse the band condtions have been poor lately, the KØUSA team assumed that the contacts would come slowly and it would be a great time to get new hams and other visitors a chance to get on the air. They were wrong.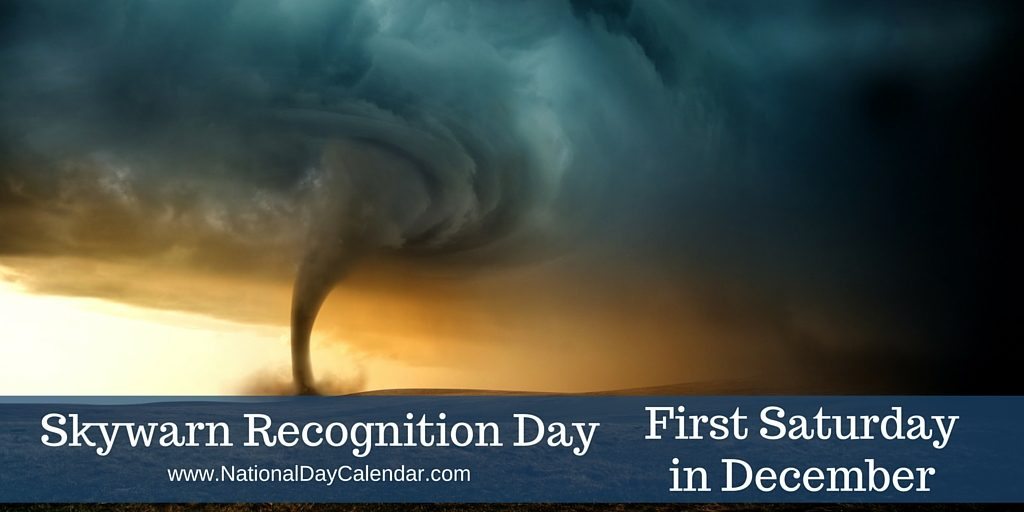 SKYWARN Recognition Day (SRD) will take place this year on Saturday, December 2from 0000 until 2400 UTC (starts on the evening of Friday, December 1, in US time zones). During the SKYWARN Special Event, ham radio operators will set up stations at National Weather Service (NWS) offices and contact other radio amateurs around the world.
Participating Amateur Radio stations will exchange a brief description of their current weather with as many NWS-based stations as possible on 80, 40, 20, 15, 10, 6, and 2 meters plus 70 centimeters. Contacts via repeaters are permitted.
SRD was developed jointly in 1999 by the NWS and ARRL to celebrate the contributions SKYWARN volunteers make to the NWS mission — the protection of life and property. Amateur Radio operators, which comprise a large percentage of SKYWARN volunteers, also provide vital communication between the NWS and emergency managers, if normal communications become inoperative.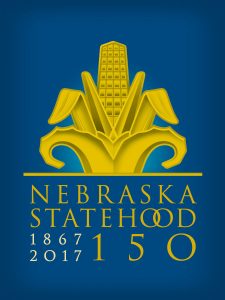 To help celebrate Nebraska's Sequicentennial there will be a year long QSO Party! The premier event will be the Sesquicentennial QSO Party, from 13:00 UTC Saturday February 25 to 11:00 pm Sunday March 5th. Nebraska's Statehood day is March 1st.
Hams throughout Nebraska are encouraged to participate as NE150Hams using their own callsign with "/NE150" as a suffix. The exchange for Nebraska is : call sign, signal report and county. Additionally participating Nebraska stations are encouraged to operate from historical sites in Nebraska (this is optional) then the station will add the name of that site, "Homestead National Monument" or "Chimney Rock". The response from the station outside Nebraska is call, name, signa report and state or province. If the station is outside of the US, then just their country.
Lots of details are still in the works, so check at http://ne150hams.org/ to get the latest information.