K0USA
The Army Military Auxiliary Radio System (MARS) will host the traditional military/Amateur Radio communication tests to mark the 68th annual Armed Forces Day (AFD) on Saturday, May 11. The event is open to all radio amateurs. Armed Forces Day is May 18, but the AFD Crossband Military-Amateur Radio event traditionally takes place 1 week earlier in order to avoid conflicting with Hamvention®. Complete information, including military stations, modes, and frequencies, is available on the US Army MARS website.
"For more than 50 years, military and amateur stations have taken part in this event, which is only an exercise scenario, designed to include hobbyist and government radio operators alike," the event announcement said. "The AFD Crossband Test is a unique opportunity to test two-way communications between military communicators and radio stations in the Amateur Radio Service, as authorized in 47 CFR 97.111. These tests provide opportunities and challenges for radio operators to demonstrate individual technical skills in a tightly-controlled exercise scenario that does not impact any public or private communications."
During the event, military stations in various locations will transmit on selected military frequencies and announce the specific ham frequencies they are monitoring.
Military stations expected to be on the air for the event include those in Arizona, Japan, Hawaii, Okinawa, Washington, DC (and elsewhere in the contiguous states), the USS Midway, the USS Yorktown, the USS Iowa, LST-325, the US Naval Academy in Annapolis, and the Newport Naval Radio Station Museum in Rhode Island. The MARSCOMM and MARSRADIO nationwide networks will have multiple stations on the air across the continental US.
An AFD message will be transmitted utilizing the Military Standard (MIL-STD) serial PSK waveform (M110) followed by MIL-STD Wide Shift FSK (850 Hz RTTY), as described in MIL-STD 188-110A/B. Technical information is available. The AFD message will also be sent in CW and RTTY, as indicated on the full schedule. Anyone wanting a QSL should complete the request form on the MARS website.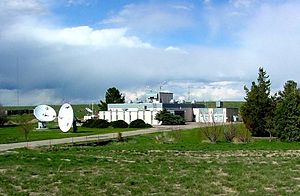 With its funding secure for another year, WWV, the world's oldest continuously operating radio station, will have extra reason to celebrate its centennial this fall. The National Institute of Standards and Technology (NIST) and the Northern Colorado Amateur Radio Club (NCARC) have teamed up to organize 100th anniversary events. A memorandum of understanding is pending. The WWV Committee has announced that the call sign WW0WWV was granted on February 23 to the WWV Amateur Radio Club for use during the Amateur Radio special event, planned to run September 28 – October 2, with operators on the air — no pun intended — around the clock. NCARC predicts the effort will require "hundreds" of volunteer operators.

"The 100th anniversary is an occasion to celebrate radio and our understanding of the electromagnetic spectrum, and an opportunity to help people everywhere appreciate what radio does in their everyday lives," said Dave Swartz, WODAS, who has been spearheading the on-the-air event.

The WWV Committee met on February 22, with representatives of NCARC and NIST on hand, to further firm up plans for the centennial celebratory events. Although the US government cannot fund any Amateur Radio special event expenses, club members will be allowed to use a 15-acre parcel on WWV property, Swartz has explained. The operating site lies outside the security fence.

For its part, NIST will focus on plans for an October 1 recognition ceremony and an open house at the radio station north of Fort Collins.
As a Service to its members, the AARC has available some items that members might need occasionaly.
Members of the Ak-Sar-Ben Amateur Radio Club, who are in good standing (that means current on your dues!) and possesses an active FCC issued US Amateur Radio License may borrow one of two Icom HTs. The radios are a basic 2 meter radio which is great for the new user. It has a NiMH battery and a drop in charger and an alkaline pack making it the perfect if you need to borrow a rig to help with that community service event, or if you are just itching to get on the air as you shop for your new radio. Completely programmable from the keyboard there is no need for the complication of computer based programming.
The radios are available for checkout at any club meeting and you can use it to your hearts content for then next month. Just bring it back to the next month's club meeting. If you can't make a meeting for either check out or return, you can contact the equipment committee at This email address is being protected from spambots. You need JavaScript enabled to view it. to make arrangement for its return. Someone else might be waiting!
We also have an MFJ-259B Antenna Analyzer and an MFJ-949C Versa Tuner as well... Both are available for pick up at a club meeting with advanced notice you want to borrow them.
At this time there is no other equipment on the loan list.
Please review the Loan Agreement at the link below.
| | | | |
| --- | --- | --- | --- |
| Item | Serial Number | Borrower | Date Due Back |
| Icom V80 Kit #1 | 25006471 | Available | |
| Icom V80 Kit #2 | 25006472 | Available | |
| ARRL Intro To Morse Code CD Set | N/A | Available | |
| MFJ-259B Antenna Analyzer | N/A | Available | |
| MFJ-949C Versa Tuner II | N/A | Available | |

To review the Equipment Loan Agreement click this link.