K0USA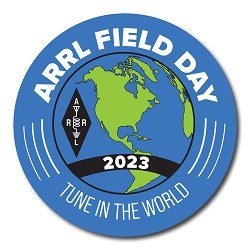 Field Day is ham radio's open house. Every June, more than 40,000 hams throughout North America set up temporary transmitting stations in public places to demonstrate ham radio's science, skill and service to our communities and our nation. It combines public service, emergency preparedness, community outreach, and technical skills all in a single event. Field Day has been an annual event since 1933 and remains the most popular event in ham radio.
The Ak-Sar-Ben Radio club has been participating in this event since the late 1940s. We welcome anyone who has an interest in amateur radio to stop by and we will help you to participate in this great event, or if you just want to learn more about Amateur Radio.
We start station setup on Friday June 23. We start operating on Saturday June 24 at 1 p.m. and go continuously for 24 hours.
This year's site is at the world-famous Village of Boys Town. We recommend that you use the 137 th and Dodge Street exit. Go a quarter mile south into Boys Town and take the first left for another quarter of a miles. There will be AARC signs to guide you to the stations.
We will be operating two 100W HF transmitters on 80M through 10M using emergency power under the club K0USA call. Additionally, we will also have a "Get on the Air" station available for newcomers and inactive Hams. Finally, we will also be operating on 6M & 2M SSB (50.125, 144.200) FM (50.525, 146.52) and Digital (50.313, 144.174) so give us a call. Talk in on 146.94-.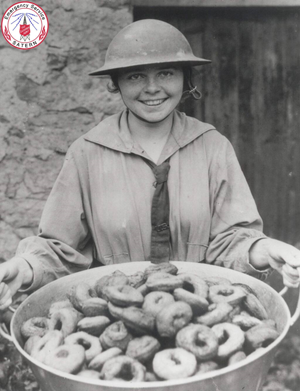 Friday June 2, 2023, is National Donut Day.
This holiday was established by the Salvation Army in 1938 to commemorate and celebrate the "donut lassies", those brave young women who served donuts to soldiers on the battlefields during World War I. In September of 1917, four young women from the Salvation Army traveled to the camp of the 1st Ammunition Train, 1st Division, mere miles from the trenches of Eastern France. They used what they wine bottles as rolling pins and filled a soldier's helmet with lard to fry their confections. The donuts were simple but were dusted with powdered sugar after being fried and were an immediate hit. These treats cemented the Armed Forces relationship with donuts and the girls who served them with a smile, giving the soldiers a touch of home. The women would cook more than 2500 donuts, eight dozen cupcaeks, fifty pies, and 255 gallons of cocoa daily.

Donut Day was created to serve as a symbol of the comfort that the Salvation Army provides to those in need.
The Salvation Army Team Emergency Radio Network, (SATERN) will be helping to celebrate the event. The Lincoln SATERN Amateur Radio Club, KØSAL, is sponsoring a special event celebrate The Salvation Army's annual "Donut Day" Friday, June 2 from 10:00 —17:00 CDT with a special event station on 20 meter, 14.265 and 40 meter, 7.240. It is listed in QST and CQ magazines.
The Omaha SATERN group will be taking a turn at the mic as KØSAL from their station at Omaha Emergency Disaster Services building at 10629 Burt Circle - from 10:00 to 17:00 on Friday. SATERN would like to invite area hams to stop by the station and get on the air, check out the station and get a donut!
QSL card and certificate available with SASE. c/o KDØPTK, Chuck Bennett, PO Box 67181, Lincoln, NE 68506
You can learn more about the history of the donut lassies in this YouTube Video.

The actions of the Salvation Army lifted the spirits of the our troups. After the war, the love of donuts exploded to the point where Donuts are now a staple of American culinary culture.
As a Service to its members, the AARC has available some items that members might need occasionaly.
Members of the Ak-Sar-Ben Amateur Radio Club, who are in good standing (that means current on your dues!) and possesses an active FCC issued US Amateur Radio License may borrow one of two Icom HTs. The radios are a basic 2 meter radio which is great for the new user. It has a NiMH battery and a drop in charger and an alkaline pack making it the perfect if you need to borrow a rig to help with that community service event, or if you are just itching to get on the air as you shop for your new radio. Completely programmable from the keyboard there is no need for the complication of computer based programming.
The radios are available for checkout at any club meeting and you can use it to your hearts content for then next month. Just bring it back to the next month's club meeting. If you can't make a meeting for either check out or return, you can contact the equipment committee at This email address is being protected from spambots. You need JavaScript enabled to view it. to make arrangement for its return. Someone else might be waiting!
We also have an MFJ-259B Antenna Analyzer and an MFJ-949C Versa Tuner as well... Both are available for pick up at a club meeting with advanced notice you want to borrow them.
At this time there is no other equipment on the loan list.
Please review the Loan Agreement at the link below.
| | | | |
| --- | --- | --- | --- |
| Item | Serial Number | Borrower | Date Due Back |
| Icom V80 Kit #1 | 25006471 | Available | |
| Icom V80 Kit #2 | 25006472 | Available | |
| ARRL Intro To Morse Code CD Set | N/A | Available | |
| MFJ-259B Antenna Analyzer | N/A | Available | |
| MFJ-949C Versa Tuner II | N/A | Available | |

To review the Equipment Loan Agreement click this link.