K0USA
Your New Leadership for 2018
President:
Vice President:
Bill True, WA9ASD
Justin Tabor, KE0BHP
Board of Director:
Board of Director:
Barb Westcott, KC0HLB
Brian Sohl, KE0GKB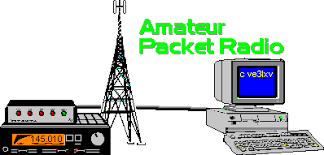 There is a group of hams who get together on a semi regular basis to work on various data modes.
Last year, they worked on AREDN - using 2.4 GHz and other frequencies to create ham radio networks. This year they are working on packet.

Their plans are to setup a packet BBS and encourage more hams to get involved in packet.
Despite its limited speed, packet is still a reliable method of communications and can be a great way to communicate during times of disaster and disaster recovery.
This is an informal group that meets to keep interest going on the project, work together over difficult issue and help each other achieve the goals of the "project".

Currently they have completed the following:


Setup a Winlink RMS station - this is the ONLY active Winlink station in Nebraska.
Sent and received emails via the Winlink system that were initiated and received over packet radio.
The Packet RMS station is under the K0MMR (OMMRS) callsign
Re-instated the packet station at the Red Cross - on the air as W0EQU with a PBBS of RedX-1


The Ak-Sar-Ben Amateur Radio Club welcomes newly licensed amateur radio operators to the great hobby amateur radio.
We know it can be a bit intimidating figuring out what to do now that you have that new call sign. Joining a club and being active in events is a great way to find those people who are willing and able to help.
To make is easy for a newly licensed ham, the Ak-Sar-Ben Amateur Radio Club offers:
A free year's membership in the club so you can put your dues money towards your radio purchases.
Loaner radios - we have two Icom 144MHz handitalkies - so you can get on the air while you decide which new radio to buy. Any member may borrow one of these radios for a month at a time
The Ak-Sar-Ben Amateur Radio Club has an active group who like to take ham radio out of the "shack" and into the field. They have plans to operate from:
Homestead National Monument of America in Beatrice,NE for the 2017 Total Eclipse in August.
USS Hazard National Historic Landmark at Freedom Park in Omaha for ham radio event called Museum Ships Weekend in June
There are tenative plans for operating from other locations so watch the website and Facebook for details
The club also is active in community service, providing communication support to numerous events such as
Nebraska State High School Track Meet
Market-to-Market Relay
The Corporate Cup
Crop Walk
You can find an application form at this link. Fill it out and bring it with you to a club meeting! We meet the 2nd Friday of the Month at the Red Cross near 84th and Spring. We are looking forward to meeting you!
Don't miss an activity or event! Ask your fellow hams for help. Join our Groups.io email group:
Readers of CQ magazine's print edition are well aware we have been behind schedule on printing and mailing our issues on a timely basis. We apologize for these delays, which resulted from a variety of little things going wrong, all at the same time.
Rather than trying to play catch-up over the course of the next several months, we have made the decision to allow the November and December 2017 issues to remain as digital-only issues, and to jump-start our print edition with the January 2018 issue. This will enable us to get back and stay on schedule as we move toward our 75th anniversary of serving the amateur radio community.
The January issue is at the printer being processed right now. Please note: All print subscriptions are being extended for two months.
Anyone may access the digital editions of the November and December issues using the following links:
CQ December 2017: http://www.zinio.com/reader.jsp?issue=416437244&o=ext
CQ November 2017: http://www.zinio.com/reader.jsp?issue=416434275&o=ext
Please view in Firefox. Thank you for your patience and understanding.
You can now renew your dues online via PayPal.
This option is ONLY available to renew your membership if you are currently a member in the Ak-Sar-Ben Amateur Radio Club.
This method cannot be used for new applicants, or anyone who was not a paid member since 2015.

If your membership has lapsed (per the bylaws to remain current dues must be paid by March 1st of each year) after a year of inactivity your name is removed from the primary roster. In that case please resubmit a membership application with your dues to the club's address or bring it to a club meeting.
Also, per the bylaws, new members must submit a membership application and be voted upon by the club membership before we deposit your payment. At this time it was decided not to accept payment for new members via the online method.
Please consider adding $1 to offset the costs of processing through PayPal. You can select this from the drop down menu and add it to your cart.
If you have any questions please email This email address is being protected from spambots. You need JavaScript enabled to view it.

AkSarBen ARC
PO Box 24551
Omaha, NE 68124
RENEWALS ONLY!!!!