Annual Ham Radio Flea Market


September 12th 2015
8:00 a.m. to 12:00 noon
In the

AIR CONDITIONED

4-H building

at the
Sarpy County Fair Grounds
Breakfast and Lunch will be available on site.
Click here for our online registration and pay with PayPal

For our August program our BOAR (Broadband Over Amateur Radio) group demonstrated Broadband Hamnet in action.
---
The monthly Fox Hunt saw 3 teams assemble at the starting point; K0CTU with N0TRK and KA0VNY; N0JSB with Chris and Justin, KE0BHP with another ham new to the area. The hunt started on time with all stations able to hear the transmitter on the first or second transmission.
The lazy fox tried to play a mind game with Dave, N0JSB who won the hunt 2 months ago. I hid in the same spot, thinking Dave would say to himself, "He wouldn't hide in the same spot.". Bad idea on my part. In less than an hour into the hunt Dave came tooling along to the parking lot of Bogey's Sports Bar, right where I hid in May at about 105th and Bedford overlooking I-680.
He explained that he remembered the spot because it was high and unobstructed in all directions and would be a good place to take a reading. So much for mind games.
After more than an hour Pat, K0CTU called in for a hint and it was told to review the hunt results from May. After a few rude comments about not having time to read old news the team eventually arrived about 1 1/2 hours after the start.
At this point I called Justin and told him his finishing position had been determined. Then he told me where he was and I told him all he had to do was go straight south about 6 blocks to find us.
Join us on August 16 at 3 PM for more transmitter hunting fun.
de WA9ASD
The Ak-Sar-Ben Amateur Radio Club will be hosting a General Class Study Group. The Study Group will be a loosely structured "class" intended to guide amateurs in their pursuit of a General Class Amateur Radio License.


The Study Group will meet at the Heartland Chapter of the American Red Cross on Saturday afternoons starting at 1:00 pm. The prefered text and general course outline will be the ARRL General Class Study Manual.

There is no charge for the study group and anyone can attend. Hams of General class and above are encourged to attend to help mentor the group looking to upgrade.
No need to sign up.. just show up! Attend those sessions that you can!
Well everyone, another successful Field Day has come and gone. I want to thank everyone who came out to the event. We had over 30 people participate and rand nine simultanious radios. We managed to contact all but 4 sections.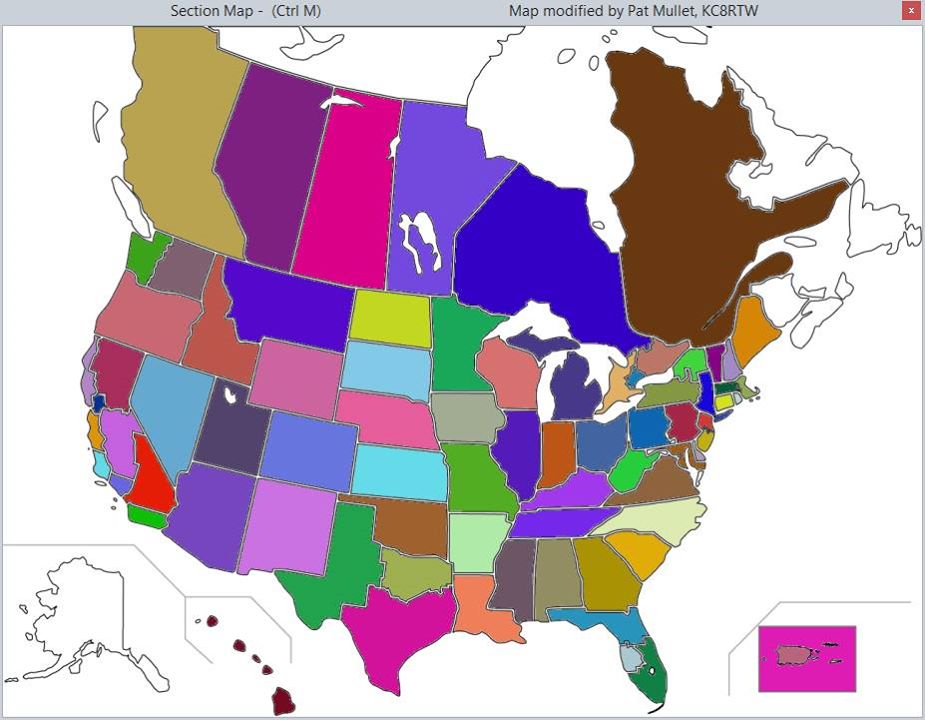 We made a total of 1874 QSO's for a total of 2791 points from them!
Last minute arrangements made it possible for K0USA to be on the air from the USS Hazard for the annual Museum Ship's Weekend held on June 6th. Freedom Park is not yet open so access was limited, and at the time the Hazard was still undergoing the effort straighten her after the 2011 floods left her listing about 7 degrees to port.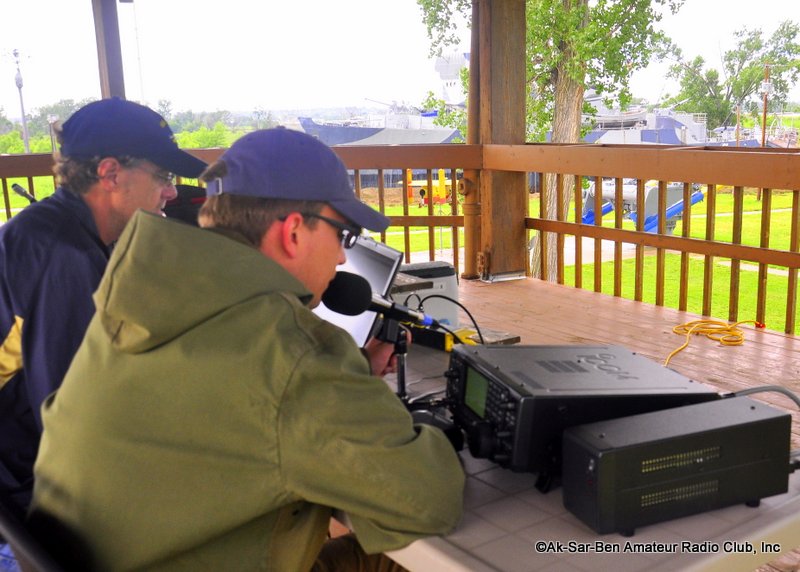 AARC member, and Freedom Park Volunteer, Peter KE7RDM arranged for members to setup and operate at the park. With the threat of rain, and not being able to board the ship, a quick decision that morning was made to setup in the park's gazebo. A dipole was strung between the upper level of the gazebo and one of the large ship propellers and the operators got on 20 meters about 11:00 am.
8 hours later, at 7:00 pm when the event ended, they had reached 340 stations including a DX conversation to Brussels Belgium. This year operators included Peter KE7RDM, Pat K0CTU, Kevin KA0VNY, Ronnie WD0GCN, Ryan KD0FJQ and Mary N0TRK
Next year the plans are to operate from the renovated radio room on board the ship, and perhaps to operate during the entire 24 hours and to add more bands to the operation.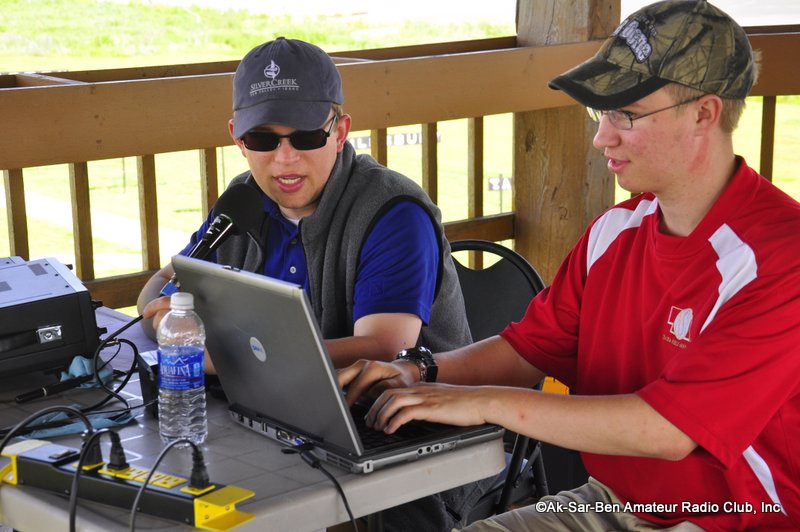 Museum Ships weekend is an annual amateur radio operating event, in which HAMS operate on the amateur band waves from retired maritime vessels, both military and commercial, from all over the world, to enable the amateur community at large the opportunity to contact these historic museum entities and receive written confirmation of the contact. Maritime museums, maritime memorials, historic aircraft, and other appropriate entities also participate. In 2015 there were 104 ships that participated in the event. The USS Hazard was one of only two minesweepers.
---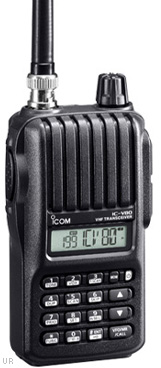 Members of the Ak-Sar-Ben Amateur Radio Club, who are in good standing (that means current on your dues!) and possesses a active FCC issued US Amateur Radio License may borrow one of two Icom HTs.

The radios are a basic 2 meter radio which is great for the new user. It has a NiMH battery and a drop in charger and an alkaline pack making it the perfect if you need to borrow a rig to help with that community service event, or if you are just itching to get on the air as you shop for your new radio. Completely programmable from the keyboard there is no need for the complication of computer based programming.
The radios are available for checkout at any club meeting and you can use it to your hearts content for then next month. Just bring it back to the next month's club meeting. If you can't make a meeting for either check out or return, you can contact the equipment committee at This email address is being protected from spambots. You need JavaScript enabled to view it. to make arrangement for its return. Someone else might be waiting!



| | | | |
| --- | --- | --- | --- |
| Item | Serial Number | Borrower | Date Due Back |
| Icom V80 Kit #1 | 25006471 | Available | |
| Icom V80 Kit #2 | 25006472 | Available | |
| ARRL Intro To Morse Code CD Set | N/A | Available | |
| MFJ-259B Antenna Analyzer | | Pending | |

To review the Equipment Loan Agreement click this link.
Other equipment will become available soon!
The K0USA repeater is an open repeater system and available for any licensed amateur radio operator to use. We welcome other clubs and organizations to use the repeater for providing communications support for non-profit activities.
To avoid any scheduling conflicts with the use of the repeater for these community service nets the club asks that you obtain permission from the Ak-Sar-Ben ARC Repeater Committee. Please fill out the form listed below at least 72 hours advance of the date of the net.
Please use the following link to submit your request. K0USA 146.940 Use Request Form