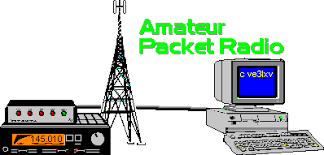 There is a group of hams who get together on a semi regular basis to work on various data modes.
Last year, they worked on AREDN - using 2.4 GHz and other frequencies to create ham radio networks. This year they are working on packet.

Their plans are to setup a packet BBS and encourage more hams to get involved in packet.
Despite its limited speed, packet is still a reliable method of communications and can be a great way to communicate during times of disaster and disaster recovery.
This is an informal group that meets to keep interest going on the project, work together over difficult issue and help each other achieve the goals of the "project".

Currently they have completed the following:


Setup a Winlink RMS station - this is the ONLY active Winlink station in Nebraska.
Sent and received emails via the Winlink system that were initiated and received over packet radio.
The Packet RMS station is under the K0MMR (OMMRS) callsign
Re-instated the packet station at the Red Cross - on the air as W0EQU with a PBBS of RedX-1
Goals yet to be completed:
Recruit more people to get into or back into packet
Add a Highspeed 440 RMS Station under K0MMR
Setup a Packet BBS that can interface to the internet to exchange messages to NTS as well as Winlink
- Considering a Linux based - maybe Raspberry Pi - rather than Windows
Add WINMOR to the K0MMR Winlink RMS gateway
Winlink was used by the hams who responded to Puerto Rico after Hurricane Maria. It is also a mode that SATERN (The Salvation Army amateur radio group)
If you are interested in learning more about Packet Radio or Winlink, then the group wants to invite you to stop by the Salvation Army at 10629 Burt Circle Saturday (March 17) about 10:00 am. They are usually there for at least an hour, but are always done by 12:00 noon. No experience or equipment is necessary to participate. Just a willingness to learn.
(This is the second Salvation Army building (only 1 story) - it has an HF Vertical on the roof... park out front, come to the door on the eastern end of the parking lot and ring the bell. )
The "group" is between 3 and 10 people at any given time. Some are very knowledgeable about parts of the process, others are just willing to be instructed on what to do as they learn more. None of them are experts and are learning as they go. Everyone with a genuine interest is invited to come this Saturday.