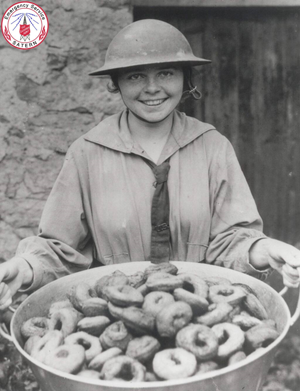 Friday June 2, 2023, is National Donut Day.
This holiday was established by the Salvation Army in 1938 to commemorate and celebrate the "donut lassies", those brave young women who served donuts to soldiers on the battlefields during World War I. In September of 1917, four young women from the Salvation Army traveled to the camp of the 1st Ammunition Train, 1st Division, mere miles from the trenches of Eastern France. They used what they wine bottles as rolling pins and filled a soldier's helmet with lard to fry their confections. The donuts were simple but were dusted with powdered sugar after being fried and were an immediate hit. These treats cemented the Armed Forces relationship with donuts and the girls who served them with a smile, giving the soldiers a touch of home. The women would cook more than 2500 donuts, eight dozen cupcaeks, fifty pies, and 255 gallons of cocoa daily.

Donut Day was created to serve as a symbol of the comfort that the Salvation Army provides to those in need.
The Salvation Army Team Emergency Radio Network, (SATERN) will be helping to celebrate the event. The Lincoln SATERN Amateur Radio Club, KØSAL, is sponsoring a special event celebrate The Salvation Army's annual "Donut Day" Friday, June 2 from 10:00 —17:00 CDT with a special event station on 20 meter, 14.265 and 40 meter, 7.240. It is listed in QST and CQ magazines.
The Omaha SATERN group will be taking a turn at the mic as KØSAL from their station at Omaha Emergency Disaster Services building at 10629 Burt Circle - from 10:00 to 17:00 on Friday. SATERN would like to invite area hams to stop by the station and get on the air, check out the station and get a donut!
QSL card and certificate available with SASE. c/o KDØPTK, Chuck Bennett, PO Box 67181, Lincoln, NE 68506
You can learn more about the history of the donut lassies in this YouTube Video.

The actions of the Salvation Army lifted the spirits of the our troups. After the war, the love of donuts exploded to the point where Donuts are now a staple of American culinary culture.